HUSQVARNA P 525D
20990,00 €
The most powerful and versatile commercial ride on mower in the Husqvarna range. Suitable for all year round use, a wide range of attachments are available for this front mounted mower enabling it clear leaves, snow or extra long grass making it an extremely versatile machine for any professional ground care companies fleet. Highly manoeuvrable and easy to use, the P525D's All Wheel Drive system enables it to tackle slopes with ease. Because all four or its wheels rotate individually, it increases the traction and stability of the rider on slopes with minimum turf damage. Fitted with a hydraulic lift to assist the operator in finding the service position with ease, the operator can perform routine maintenance and cleaning, and can change the front decked mower attachments without the use of tools.
Motor/engine manufacturer:Kubota
Net power at preset rpm:3000 rpm
Cutting width, min:132 cm
Cutting width, max:155 cm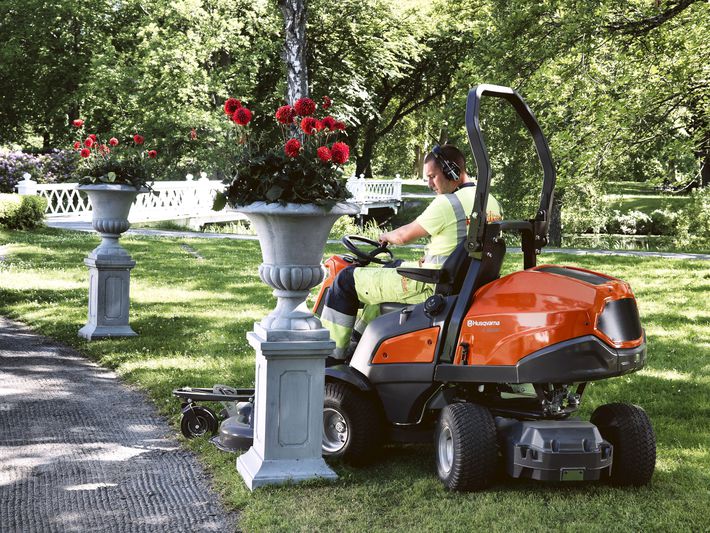 Unique articulated steering
The unique articulated steering system allows the rear pair of wheels to swing in underneath the machine. The result is superior manoeuvrability with a minimum turning radius at full lock.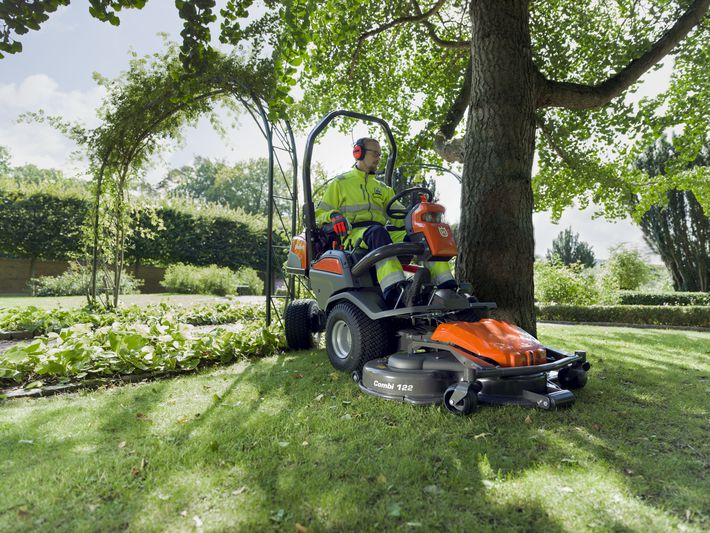 Trimming ability
The front-mounted cutting deck gives excellent overview of the working area, enabling precise, close-up trimming.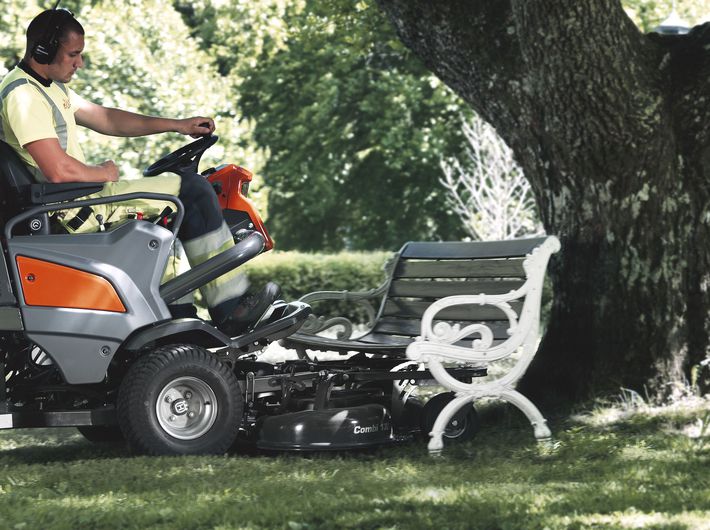 Mowing accessibility
The low profile front-mounted cutting deck gives unbeatable accessibility in under fences, bushes, park benches etc.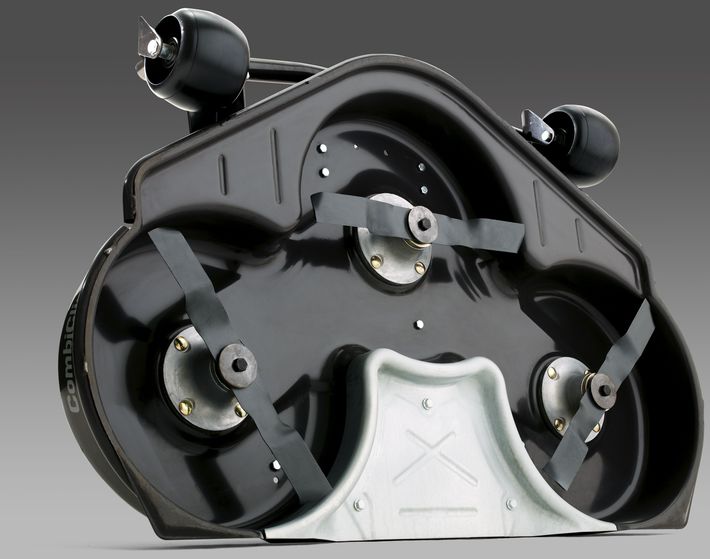 Combi deck
The high-performance Combi deck is stamped from a single piece of steel plate. It's a unique solution that delivers efficient mulching and rear discharge with exceptional results as well as problem-free operation.
Engine
Motor/engine manufacturer Kubota
Engine name D1105
Motor/engine model Diesel horisontal axle
Cylinder displacement 1123 cm³
Cylinders 3
Engine cooling Liquid
Generator 40 A
Battery 12 V
Battery 62 Ah
Power/fuel type Diesel
Fuel tank volume (with reserve) 25 l
Engine lubrication type Pressure with Oilfilter
Oil type SAE 10w40
Oil filter Yes
Net power at preset rpm Energy 18.7 kW
Drive system
Transmission type Hydrostatic AWD
Transmission manufacturer Kanzaki
Transmission model KTM 23
Drive method Pedal-operated
Speed forward max 18 km/h
Speed forward min 0 km/h
Speed reverse max 11 km/h
Speed reverse min 0 km/h
Cutting deck
Uncut circle 58 cm
Cutting width, min 132 cm
Cutting width, max 155 cm
Cutting deck type Combi
Cutting deck material Steel
Deck thickness 4.5 mm
Cutting methods Mulching/Rear discharge
Cutting height steps 7
#Cutting height steps 7
Blade engagement Electric clutch
Blades 3 pcs
Anti-scalp wheels 1
Powder-coated cutting deck Yes
Cutting height max 112 mm
Cutting height min 30 mm
Equipment
Power steering Yes
All-Wheel Drive (AWD) Yes
Optional cutting decks Combi 132, Combi 155
Hydraulic equipment lift Yes
Pivoting rear axle Yes
Seat type Full suspension, arm rests
Seat manufacturer SEAT
Seat material Vinyl
Seat suspension Yes
Seat back height High
Hinged armrests Standard
Hinged armrests Yes
ROPS Yes
Oil cooler Yes
Service position Yes
Headlights Yes
Dimensions
Tyre manufacturer Kenda
Wheelbase 106 cm
Wheel axle diameter 45 mm
Ground clearance 140 mm
Base machine, length 208 cm
Length incl Combi 155 279 cm
Base machine, width 114 cm
Base machine, height (ROPS down) 133 cm
Base machine, height (ROPS up) 203 cm
Weight 677 kg
Tyre size, front Diameter 20 in
Sound and Noise
Sound pressure level at operators ear 92 dB(A)
Sound power level, measured 105 dB(A)
Sound power level, guaranteed (LWA) 105 dB(A)
Sound level 105 dB(A)
Vibration
Vibration level steering wheel 1.7 m/s²
Vibration level seat 0.7 m/s²