HUSQVARNA RC 318T
7 499,00 €
Designed for homeowners who value Husqvarna quality, reliability and innovation, RC 318T is a tough, versatile Rider. Its innovative non-clogging collection system feeds clippings straight from the front-mounted cutting deck to the 300 l bag. Automatic compaction increases run time between emptying, so you get more done. Thanks to its innovative design this ride-on mower offers effectiveness, efficiency and ease of use. Service and cleaning of the cutting deck is tool-free thanks to the unique 90° service position. Its intuitive controls, excellent ergonomics, unbeaten area coverage and huge collection capacity make this a truly worthwhile investment for larger gardens.
The RC 318T is delivered deckless and can be fitted with 103 and 112 cm Combi cutting decks.
Motor/engine manufacturer:Briggs & Stratton
Net power at preset rpm:3100 rpm
Cutting width, min-max:103-112 cm
Battery type:Lithium Ion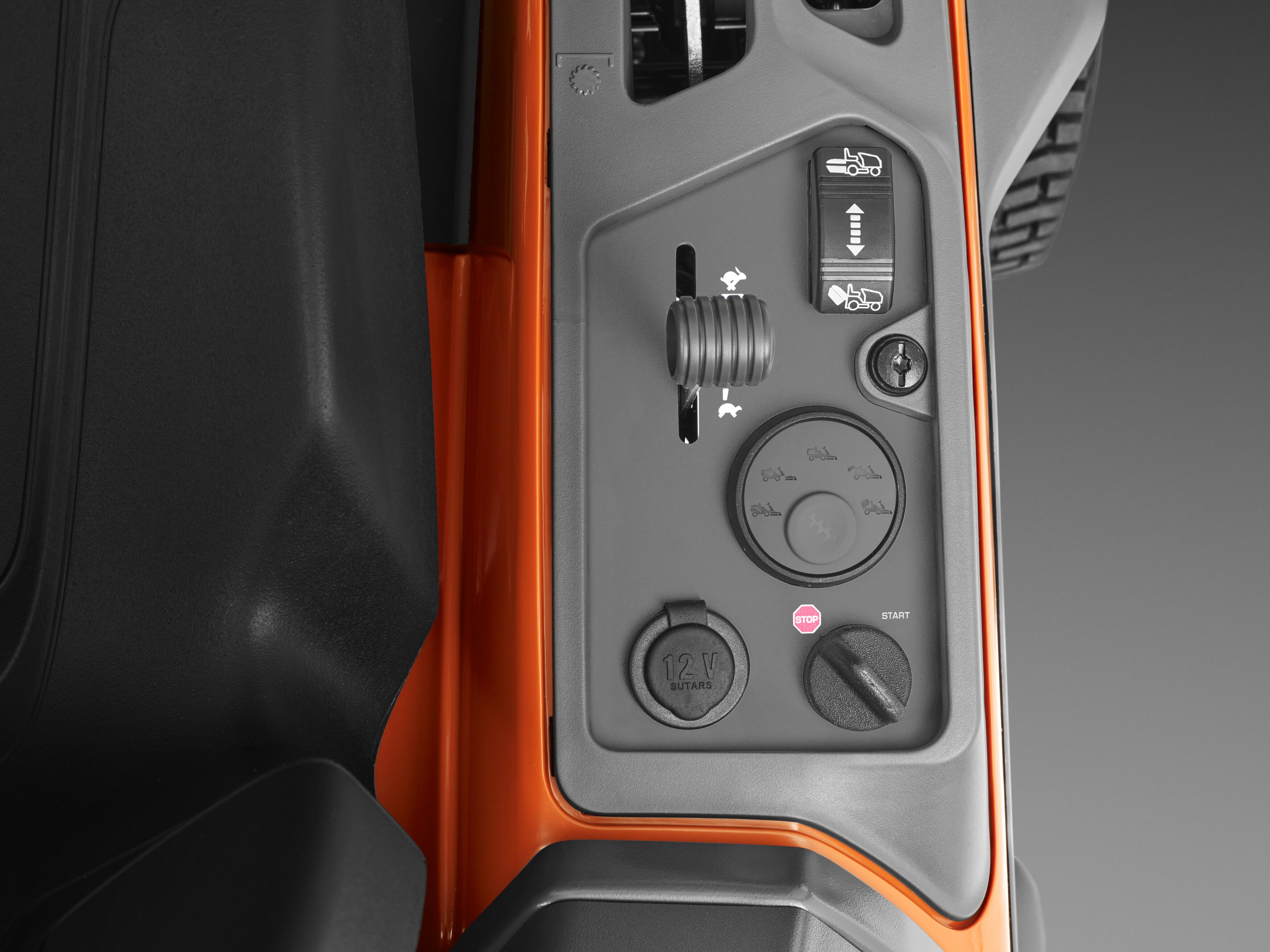 Turn key start
Easy to get operating under any wetather conditions. No choking needed, just turn the key and go.
ACTech
Non-clog collection. Compacting grass in collector, meaning bigger area coverage. The efficient collection leaves a clean lawn as a result.
Empty collector from seat
The integrated collector is easily emptied from the driver's seat
Articulated steering
The articulated steering gives excellent manoeuvrability and facilitates driving around obstacles such as trees and bushes.
Engine
Motor/engine manufacturer Briggs & Stratton
Engine name Endurance Series
Net power at preset rpm Energy 12.6 kW
Net power at preset rpm 3100 rpm
Cylinder displacement 656.0 cm³
Cylinders 2
Engine cooling Air
Power/fuel type Gasoline
Fuel tank volume (with reserve) 12.0 l
Engine lubrication type Full pressure
Oil filter Yes
Exhaust emissions (CO2 EU V) 830 g/kWh [1]
Battery
Battery type Lithium Ion
Battery capacity 5.5 Ah
Battery pack weight 2.425 lbs
Cutting deck
Cutting width, min 103 cm
Cutting width, max 112 cm
Cutting deck type Stamped
Cutting height max 75 mm
Cutting height min 25 mm
Blade engagement Automatic
Dimensions
Weight (excl. cutting equipment) 326 kg
Tyre dimensions, front 16x6,5-8
Tyre dimensions, rear 16x6,5-8
Wheelbase 90.3 cm
Ground clearance 95 mm
Base machine, length 208.9 cm
Base machine, width 103 cm
Base machine, height 128.4 cm
Weight 326 kg
Drive system
Transmission type Hydrostatic
Transmission manufacturer Tuff Torq
Drive method Pedal-operated
Speed forward max 8 km/h
Speed reverse max 7 km/h
Transmission model K66
Equipment
Hour meter type Digital
Seat material PU
Seat suspension Yes
Seat back height High
Foldable seat Yes
Parking brake, type Disc
Sound and Noise
Sound pressure level at operators ear 85.0 dB(A)
Sound power level, measured 99.0 dB(A)
Sound power level, guaranteed (LWA) 100.0 dB(A)
Vibration
Vibration level steering wheel 2.6 m/s²
Vibration level seat 0.7 m/s²