Husqvarna R 420TsX AWD
12 499,00 €
A compact, high-performance All-Wheel-Drive Rider with powerful Kawasaki V-twin Engine and power steering that easily manages large, tight and hilly areas. The unique XChange attachment frame allows you to change attachment quickly and without the use of tools. Thanks to Bluetooth connectivity, you easily monitor your Rider with the Husqvarna Connect app. Equipped with Dual LED lights, adjustable steering wheel and a convenient luggage rack, R 420TsX AWD is an excellent choice for private estate owners, sports facilities and hotels with large areas to maintain year-round.
The R 420TsX AWD is delivered deckless and can be fitted with 112 and 122 cm Combi cutting decks.
Motor/engine manufacturer:Kawasaki
Net power at preset rpm:3000 rpm
Cutting width, min-max:103-122 cm
Battery type:Lead-Acid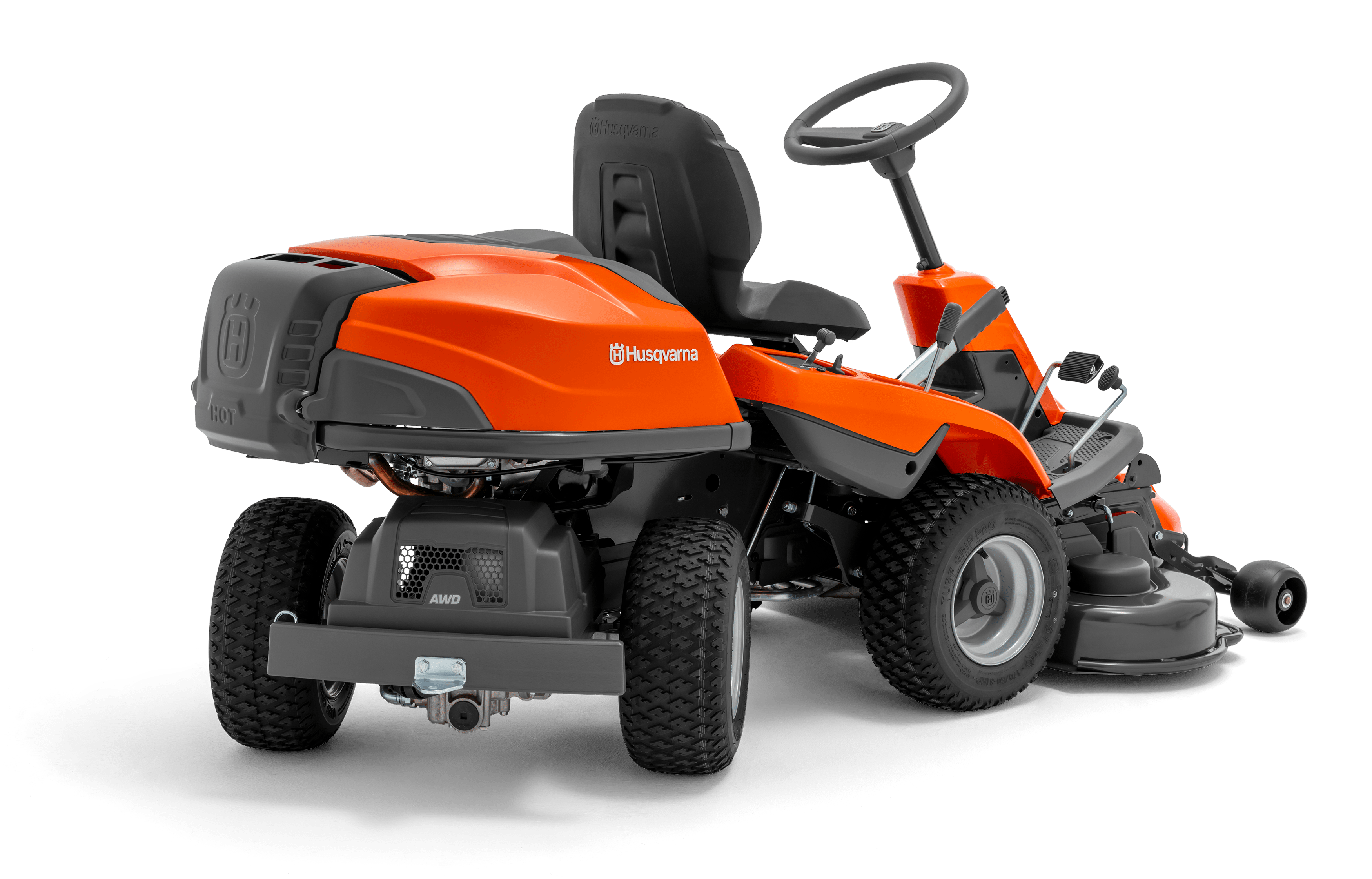 All-Wheel-Drive (AWD)
All-Wheel-Drive (AWD) ensures traction on uneven, wet and slippery areas and slopes. AWD automatically adjusts the traction on all wheels depending on situation and ground condition.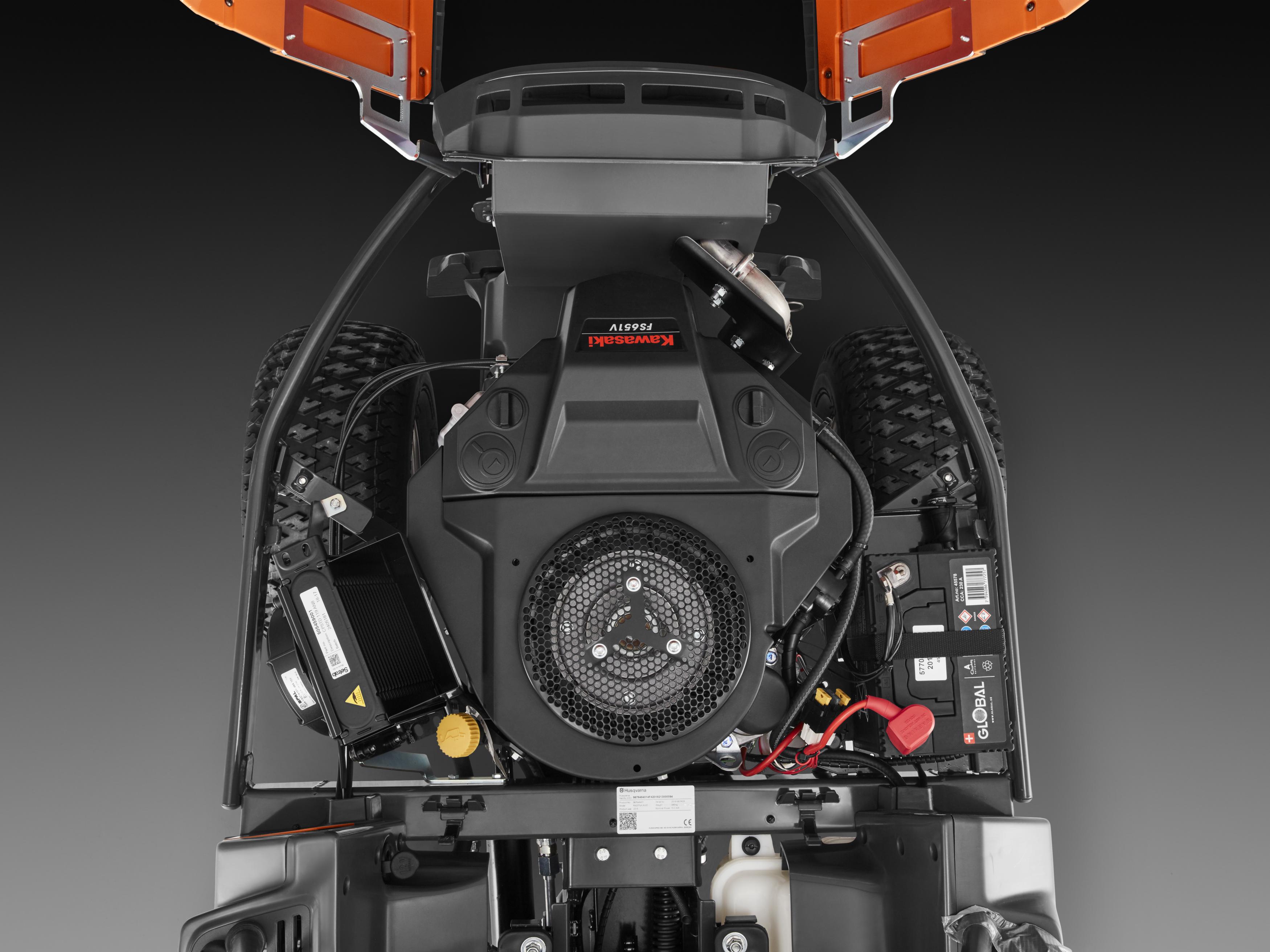 Kawasaki FS-series
Kawasaki V-twin, overhead-valve engine with full pressure lubrication and spin-on oil filter. Combines exceptional power and torque with fuel efficiency and reduced emissions.
XChange
Unique quick coupling allows attachments to be changed quickly and easily without the need for any tools. Get ready for a new task in just a minute.
Power-assisted steering
Power-assisted steering makes driving less strenuous and more enjoyable.
Engine
Motor/engine manufacturer Kawasaki
Engine name FS Series V-Twin
Net power at preset rpm Energy 14 kW
Net power at preset rpm 3000 rpm
Cylinder displacement 726 cm³
Cylinders 2
Engine cooling Fan/Air
Power/fuel type Gasoline
Fuel tank volume (with reserve) 17 l
Engine lubrication type Full pressure
Oil filter Yes
Exhaust emissions (CO2 EU V) 792 g/kWh [1]
Battery
Battery type Lead-Acid
Battery capacity 24 Ah
Battery pack weight 15.432 lbs
Cutting deck
Cutting width 122 cm
Uncut circle 70 cm
Cutting width, min 103 cm
Cutting width, max 122 cm
Optional cutting decks Combi 103, Combi 112, Combi 122
Cutting deck material Steel
Cutting height max 75 mm
Cutting height min 25 mm
Blade engagement Electromagnetic clutch
Dimensions
Weight (excl. cutting equipment) 316 kg
Tyre dimensions, front 200/65-8
Tyre dimensions, rear 200/65-8
Wheelbase 95.8 cm
Ground clearance 110 mm
Base machine, length 206.6 cm
Base machine, width 96.4 cm
Base machine, height 117.8 cm
Weight 316 kg
Gross weight towed 150 kg [2]
Drive system
Transmission type Hydrostatic AWD
Transmission manufacturer Tuff Torq
Drive method Pedal-operated
Speed forward max 9 km/h
Speed reverse max 7 km/h
Transmission model K664
Equipment
Hour meter type Digital
Seat material Vinyl
Seat suspension Yes
Seat back height High
Foldable seat Yes
Steering wheel type Ergonomic - soft grip
Parking brake, type Disc
Sound and Noise
Sound pressure level at operators ear 87 dB(A)
Sound power level, measured 101 dB(A)
Sound power level, guaranteed (LWA) 102 dB(A)
Vibration
Vibration level steering wheel 2.67 m/s²
Vibration level seat 0.15 m/s²