HUSQVARNA P 524EFI
14 999,00 €
Compact, efficient front mower featuring Electronic Fuel Injection for reduced fuel consumption, enhanced power and torque without engine drop even in tough conditions. Turn key start means no choke needed: just switch on and go. Articulated power steering helps with tight turns, while AWD ensures traction in any conditions. Fully floating cutting deck, easy access cutting height lever and headlights also help make mowing easier, while full compatibility with all P524 accessories allows year-round productivity.
Suitable for sport clubs and hotels as well as housing agencies and contractors who want a versatile, compact, highly manoeuvrable front mower.
The P 524EFi is delivered deckless and can be fitted with 112 and 122 cm Combi cutting decks.
Motor/engine manufacturer:Kawasaki
Net power at preset rpm:3000 rpm
Cutting width, min:122 cm
Cutting width, max:122 cm
Unique articulated steering
The unique articulated steering system allows the rear pair of wheels to swing in underneath the machine. The result is superior manoeuvrability with a minimum turning radius at full lock.
EFI
Electronic fuel injection for increased productivity combined with lower fuel consumption and reduced emissions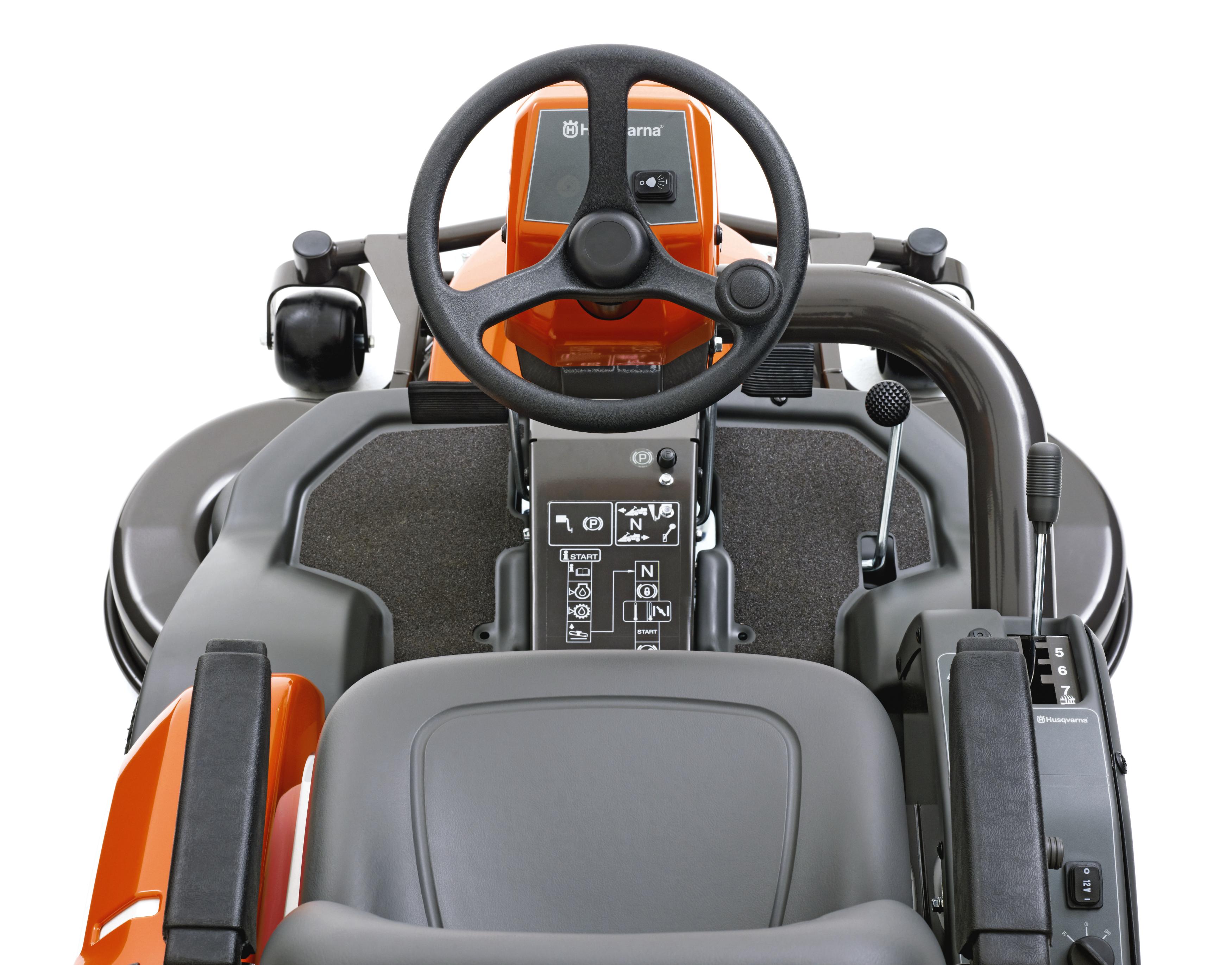 Hydraulic power steering
Heavy-duty hydraulic-cylinder power steering makes driving less strenuous.
Quick coupling
Unique quick coupling allows attachments to be changed quickly and efficiently without tools.
Engine
Motor/engine manufacturer Kawasaki
Engine name FX Series V-Twin
Motor/engine model FX730V EFI TWIN
Cylinder displacement 726 cm³
Cylinders 2
Engine cooling Air
Power/fuel type Gasoline
Fuel tank volume (with reserve) 22 l
Engine lubrication type Full pressure
Oil type SAE10W40
Oil filter Yes
Net power at preset rpm Energy 15.6 kW
Net power at preset rpm 3000 rpm
Exhaust emissions (CO2 EU V) 791 g/kWh [1]
Drive system
Transmission type Hydrostatic AWD
Transmission manufacturer Kanzaki
Transmission model KTM 23
Drive method Pedal-operated
Speed forward max 13 km/h
Speed reverse max 9 km/h
Cutting deck
Uncut circle 50 cm
Cutting width, min 122 cm
Cutting width, max 122 cm
Deck thickness 4 mm
Cutting height steps 7
Blade engagement Electric clutch
Anti-scalp wheels 3
Cutting height max 80 mm
Cutting height min 25 mm
Equipment
Power steering Yes
All-Wheel Drive (AWD) Yes
Optional cutting decks Combi 122
Hydraulic equipment lift Yes
Pivoting rear axle Yes
Seat type Premium
Seat manufacturer Milsco
Seat material Vinyl
Seat suspension Yes
Seat back height High
Hinged armrests Standard
ROPS Standard (foldable)
Oil cooler Yes
Service position Yes
Headlights Yes
Quick connection Yes
Dimensions
Tyre manufacturer Kenda
Wheelbase 100 cm
Ground clearance 105 mm
Base machine, length 205 cm
Base machine, width 98 cm
Base machine, height (ROPS down) 117.4 cm
Base machine, height (ROPS up) 192.4 cm
Weight 432 kg
Base machine, height 117.4 cm
Tyre size, front Diameter 18 in
Wheel/rim size, front Diameter 8 in
Sound and Noise
Sound pressure level at operators ear 88 dB(A)
Sound power level, measured 102 dB(A)
Sound power level, guaranteed (LWA) 103 dB(A)
Sound level 103 dB(A)
Vibration
Vibration level steering wheel 3.0 m/s²
Vibration level seat 0.7 m/s²